3D Printing: Polyurethane Polymers
Friday, June 15, 2018
9:00 am – 10:00 am
(PDT)


San Francisco, LA

12:00 pm – 1:00 pm
(EDT)


Boston, New York

5:00 pm – 6:00 pm
(GMT)


London

6:00 pm – 7:00 pm
(CET)


Paris, Rome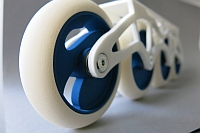 Polyurethane for demanding applications
Thermoplastic polyurethane (TPU) is cmmonly used in product development for highly demanding applications such as small-diameter wheels on rough terrain.
Image credit: Sculpteo
Join us for a series of lectures featuring materials sciences expert Prof. Rigoberto Advincula of Case Western Reserve University! Our new 2018 series with Prof. Advincula is focused on giving audiences a deeper look into various aspects of 3D printing. With applications in many fields such as manufacturing, medicine, architecture, and custom art and design, 3D printing is be at the forefront of many commercial technologies for years to come.
Our next entry in this series will be focused on how 3D printing with polyurethane (PUR) polymers. Best known for common thermosetting varieties that do not melt when heated, polyurethane can also be found in thermoplastic varieties as well. As a whole, PUR polymers are amongst the most ubiquitous in our world today having applications in foam seatings, insulation panels, seals and gaskets, wheels and tires, high performance adhesives, surface coatings, and synthetic fibers. Join us as Prof. Advincula gives a survey on the cutting-edge research and development going into PUR polymers today to enhance desirable mechanical performance in areas such as abrasion, impact, and flame resistance.
Presented by: Prof. Rigoberto Advincula Macromolecular Science & Engineering Case Western Reserve University
About Prof. Rigoberto Advincula

Prof. Rigoberto Advincula, Director of the Petro Case Consortium, is recognized industry-wide as an expert regarding polymer and materials challenges of the oil-gas industry. He is currently a Professor with the Department of Macromolecular Science and Engineering at Case Western Reserve University and is the recipient of numerous awards including Fellow of the American Chemical Society, Herman Mark Scholar Award of the Polymer Division, and Humboldt Fellow.